Royal Palace Singaraja and North Bali Royalty
(Pictures shot in 2006)
In August 2006 there has been an interesting festival in North Bali, and part of the organisation was in the hands of descendants of the King of Singaraja. The first panorama on this page pictures five members of the Royal Family. Anak Agung Ngurah Brawida, holding the lontar which has been used by previous Kings to learn about just and rightful ruling. The two young girls are both princesses, Anak Agung Ayu Rahmi and I Gusti Ayu Mega Sari Giri Putri. The two other women are I Gusti Ayu Ngurah Asi Wikanti and I Gusti Ayu Ngurah Ari Wilasti.

Allthough still respected, the role of the Royalty is not so important anymore as before the The Kingdom was ruled by the Dutch and the current Republic of Indonesia. The Royal Palace is in desperate need of repairs, and part of the funding will be raised through the Festival. It is still interesting to visit.

The second Panorama shows the living quarters of the King, with seperate bedrooms for his four wifes. (three in the back, one attached to the house). On the wall are various historical pictures, and some paintings of the Royal Family Members.

The third panorama shows a building facing the central courtyard, with a lot of details about the last official King of Buleleng, Anak Agung Panji Sakti, who founded Lovina as a tourist resort, and wrote some novels as well. He died in Lovina at the age of 70, in 1978.

The fourth panorama on this page shows another building facing the courtyard, and here you find paintings of Anak Agung Panji Sakti and his family.

UPDATE. On the bottom of the page you some panoramas of a private Royal family ceremony in Bali

On the bottom of this page you find some information about the history of Bali, Buleleng

The links to the panorama's open a new window or tab. Panoramas are mobile friendly.
---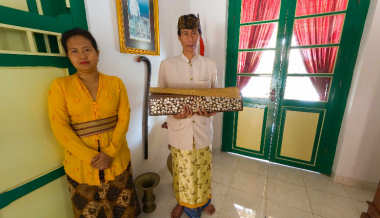 Royal Family Members

Open: Royal Family Members Panorama


---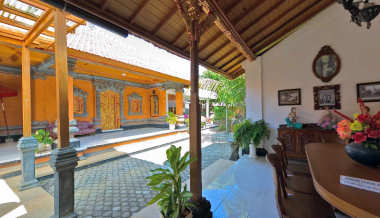 Kings Quarters

Open: Kings Quarters Panorama


---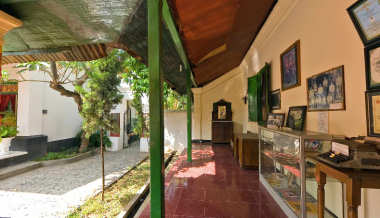 Palace Courtyard Building

Open: Palace Courtyard Building Panorama


---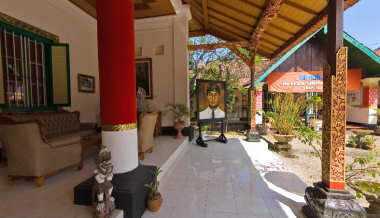 Paintings of Anak Agung Panji Tisna

Open: Paintings Anak Agung Panji Tisna Panorama

---
Historical Buleleng, North Bali
The Royal line of Buleleng, Singaraja is descended from the Son of Dalem Sagening, the King of Gelgel, Klungkung named Ki Gusti Anglurah Pandji Sakti. Pandji Sakti, so it is recorded, left from Klungkung to establish a new Kingdom in Den Bukit, Buleleng, North Bali. On reaching the peak of the Mountain range, he was thirsty and so he plunged his magic kris into the ground and front that spot flowed water. Water still flows from this spring today and makes life possible at the top of the mountain range. A temple was built at this place and is called Toya or Tirta Ketipat. You will pass it by on the way to Denpasar from Singaraja via Bedugul / Lake Beratan.

Ki Gusti Anglurah Panji Sakti eventually settled in the village of Panji around 5 kms South West of Singaraja. When he had finally succeeded in uniting Den Bukit (now Buleleng, North Bali) he became the King of Den Bukit. Then he built two other Puri (palaces) namely Sukasada, 2 kms South of Singaraja. Singaraja as the third Puri built on March 30th, 1604 became the beginning of the Kingdom of Buleleng and Singaraja, the capital town of the regency of Buleleng. Singaraja was chosen by the Dutch as the easiest place to make their first incursion onto Balinese Soil. This they did by brute force in the mid 19th century (1846-1849). The palace / puri was destroyed and the family mostly deposed or annihilated at the final stand in the town of Jagaraga around 15 kms east of Singaraja.

In agreement with the people of Buleleng, the Dutch appointed I Gusti Ngurah Ketut Djlantik of the Pandji Sakti line to be the new Raja (King of Buleleng) in 1860. The young and intelligent king was finally exiled by the Dutch to Padang, West Sumatra when he was known to have supported the rebellion against the Dutch in Banjar about 17 kms West of Singaraja in 1873.

In 1929, I Gusti Putu Djlantik, the adopted son of I Gusti Ngurah Ktut Djlantik (the exiled king) was appointed by the Dutch to be the regent of Buleleng and then in 1938 he was appointed to be the zelfbestuurder-Raja of Buleleng and then known as Anak Agung Putu Djlantik. Anak Agung Putu Djlantik was rebuilding the Puri Agung. Together with the Dutch, he founded the library of Lontar (palmleaf manuscripts) named Gedong Kirtya in the front part of Puri area in June 1928.

Anak Agung Putu Djlantik died in 1944 and the succeeded by his eldest son, Anak Agung Panji Tisna, The Founder of Lovina

Anak Agung Panji Tisna who was famous as a novelist was the last person to hold the title of Raja. He is also known as the founder of Lovina tourist beach resort about 10 kms west of Singaraja because he was the first person who built an accommodation named Lovina (an acronym for 'Love Indonesia') in the area in August 1953.

He had introduced Lovina as a tourist beach resort in North Bali worldwide by writing a lot of articles in International Publications for years until he died in Lovina on June 2nd, 1978 at the age of 70.

About the Royal Palace.

In the Puri Agung or Puri Gede which has been restored several times and been long neglected is now softly open to the public who are interested in the history of Den Bukit / Buleleng - North Bali. Visitors can see a number of pictures of Raja (Kings) of Buleleng in the old house where the Raja (King) and family used to live. At the south east of the back yard you can see the Royal Shrine (Merajan Puri).

In the front part of the Puri area visitors can visit the Gedong Kirtya the library of Lontar, Museum Buleleng and see art performances at Sasana Budaya and the traditional weavery factory which produces typical Buleleng sarongs and cloths. (Ikat)
---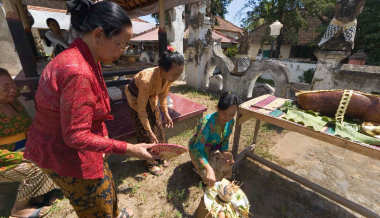 Babi Guling Offer

Open: Babi Guling Offer Panorama


---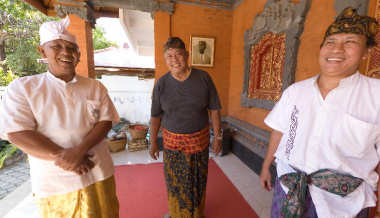 Princes and Famliy

Open: Princes and Famliy Panorama


---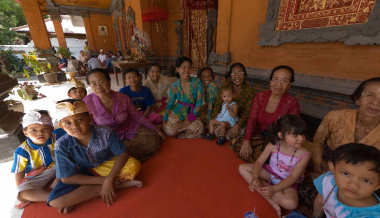 Royal Bali Women and Kids

Open: Royal Bali Women and Kids Panorama


---