Naughty Joged in a North Bali Village
(Pictures shot in 2006)
North Bali, or better Buleleng, is considered one of the more "rough" areas of Bali. The people use a bit harsher language, only noticable to the Balinese themselves though.
These are 3 panoramas from the village of Panji in North Bali, where a couple celebrates their "3 month baby ceremony", (Hindu tradition) and has invited a group of Joged dancers to entertain the village.
The Joged dance like its performed here, is allmost never seen by tourists. The style is very erotic, and the boys often try to touch certain body parts of the girl dancers. The movements both dancers make, refer very openly to the act of making love, and some simple acting of problems that may occur in marriage is performed.
Eventhough the nature of the dance is very explicit, children and elderly all enjoy it, and there is no shame shown in any way.
The men have to draw numbers, to get their turn with one of the dancers. Usually there are 4 to 5 girls in the troop, and there are a few of those troops of girls, including Gamelan Orchestra cruising the North of Bali doing these kind of performances.
Costs for a performance? Including the orchestra around 65 to 90 USD for an about one hour performance, and a guaranteed crowd at your party.
I know, I had a Joged dance at my wedding :)
Webmasters Joged Dance
The links to the panorama's open a new window or tab. Panoramas are mobile friendly.
---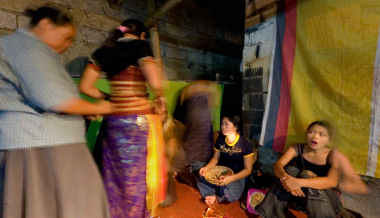 The Joged Dancers Dressing

Open: Dancers Dressing Panorama

---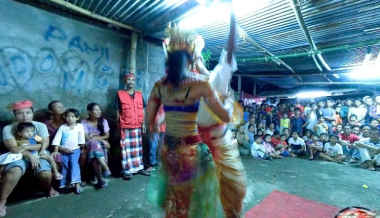 Joged Dance

Open: Joged Dance Panorama

---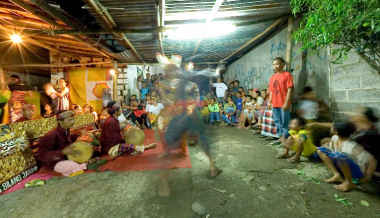 Village Joged Dance

Open: Village Joged Dance Panorama

---