Exhibition, Pameran Cheap Market Place Denpasar
(Pictures shot in 2006)
A Pameran is a sort of an exhibition, a fair or temporary market. Usually its a combination of travelling businesses, selling all kinds of cheap stuff, from childrens toys to womens underwear and shoes, car or motorbike dealers and promotion from the governement for their activities. In this case there was also a place where people were introduced to working at the traffic police.

Some of these pamerans have a semi permanent place, but mostly its organised every now and then at a suitable place. Entry fee is about 2000 rupiah (20 dollar cents) and sometimes, like in this case, there is some form of free music entertainment.

After lingering through the market, you find many food stalls. The Balinese see these exhibitions as nice form of entertainment. On this particular pameran there were very sexy Dangdut singer performances, so the place was crowded by Balinese men gazing at the performers.

One of the Panoramas shows a very American shop, full with baseball caps and American flags...... You also see a Nazi Swastika hanging brotherly between AC Milan and an Old classic Scooter Head Scarf. Allthough in this case it clearly shows Nazi, the Balinese don't identify themselves with Nazism. The Swastika is a Hindu symbol, and you find it everywhere, in temples, on t-shirts, trucks etc.

The links to the panorama's open a new window or tab. Panoramas are mobile friendly.
---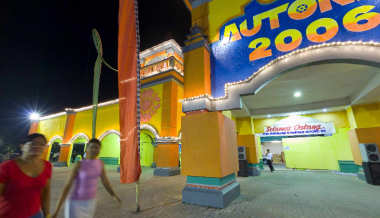 Pameran Entrance

Open: Pameran Entrance Panorama


---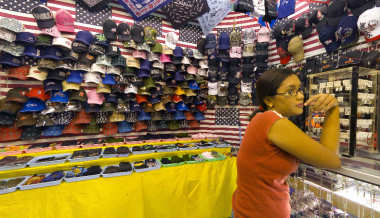 American Style Shop

Open: American Style Shop Bali Panorama


---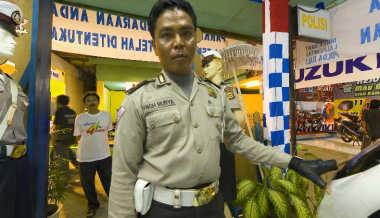 Bali Traffic Police Stall

Open: Bali Traffic Police Stall Panorama


---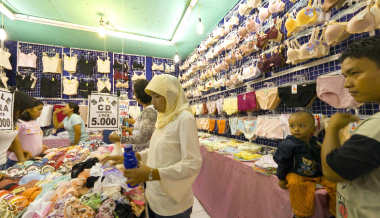 Underwear Shop

Open: Underwear Shop Panorama


---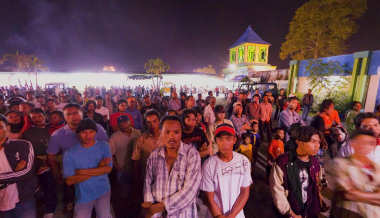 Exhibition Concert

Open: Exhibition Concert Bali Panorama


---